Recognizing PSW Day in Ontario: Meet Juliet Dandoy, a Personal Support Worker at Extendicare Halton Hills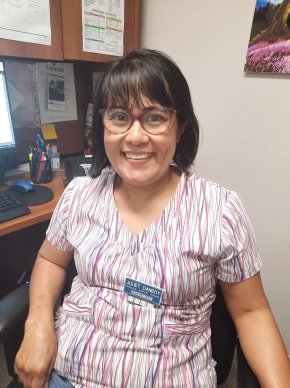 Today marks Personal Support Worker Day in Ontario. We celebrate and recognize the many dedicated Personal Support Workers who dedicate their time, energy and compassion to residents across Extendicare in our long-term care homes every day. Thank you all for being a vital part of our care teams and of our home communities.
Juliet Dandoy is a Personal Support Worker at Extendicare Halton Hills. Juliet never loses sight of the positive impact she can have in the lives of others. Juliet has always been driven by a singular focus – making certain that the residents of her long-term care home receive the care and dignity they deserve. "I really enjoy it. It's wonderful to see the residents smile, to see them joyful. You can see the results of your work," she says. "You have to have a focus of love to be a personal support worker. You have to be caring always and to reach out to people who have needs."
Juliet began working as a caregiver after she moved to Canada from the Philippines 31 years ago and settled in Ontario. She has worked as a PSW for the past 25 years and has been a member of the team at Extendicare Halton Hills since the day it opened its doors in 2003. Her passion, energy and dedication make her a powerful advocate for residents and coworkers alike.
Juliet considers herself fortunate be part of a strong and talented team who share the same focus on quality care. "I think of my job as teamwork, not as what I do as an individual. It's a joy to work with a good team. When you have good teamwork, it's like a chain reaction and everything will be smoothly done for the day."